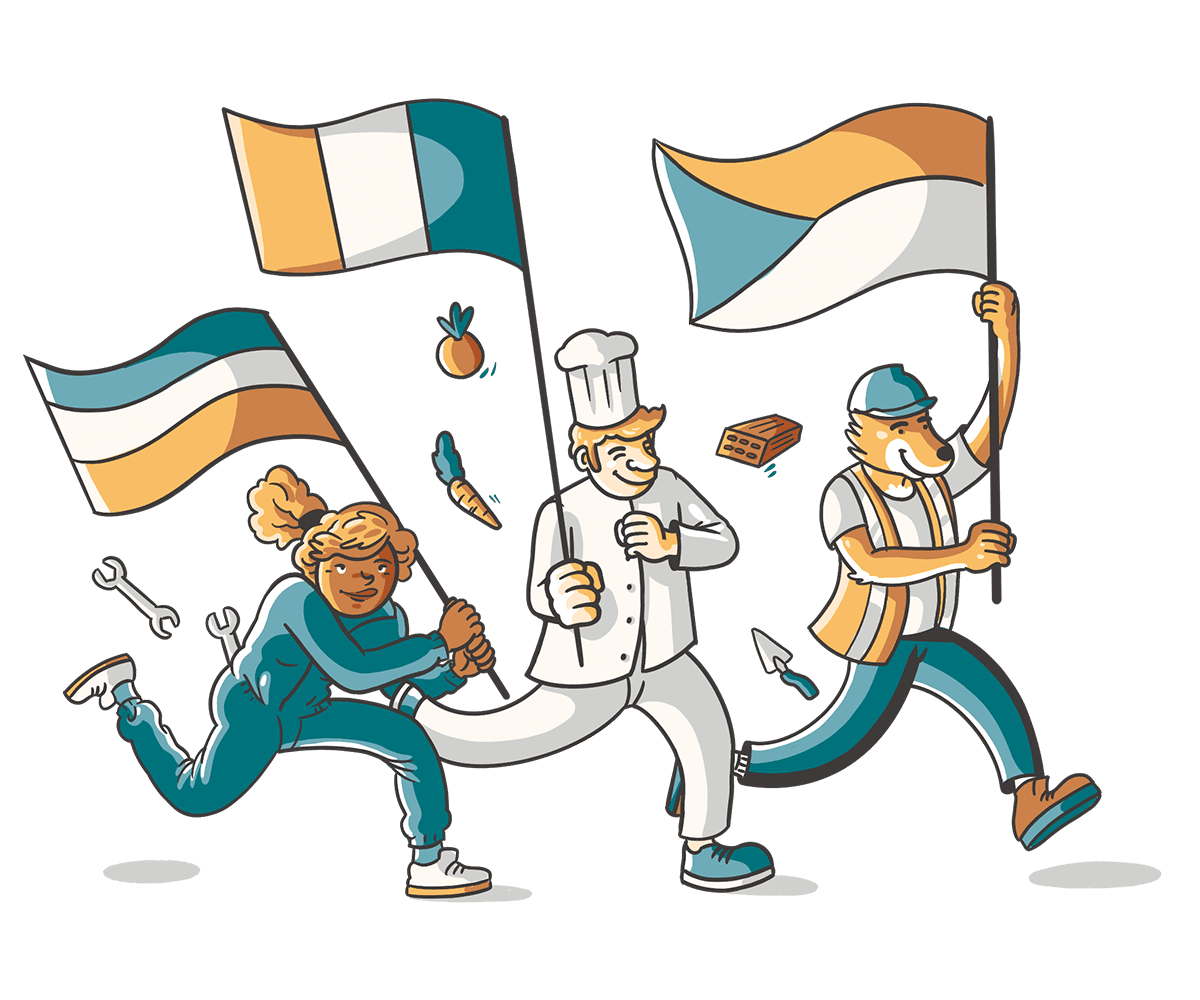 Jobs for foreigners in Australia
Australia is a land of opportunities for all who dream of a better life. A multicultural country, formed by people from all over the world who receive the one who comes from outside as one. An ideal place to find the job you are looking for!
Australian labor market
After 25 years of uninterrupted growth, Australia has established itself as one of the most robust economies on the planet.
Its low unemployment rate (around 6%) and its low population density (an average of 3 inhabitants per square kilometer) mean that there is a high demand for foreign labor, especially for sectors such as hospitality or construction.
This makes Australia a perfect country to find the job opportunity you are looking for and also improve your English. Do you want to know what are the most demanded jobs and in what sectors? Keep reading!
Most demanded sectors for foreigners
There are many job opportunities for foreigners in Australia, and most of them are associated with specific sectors, such as hospitality, construction and education.
Hospitality sector
Hospitality jobs in Australia have the advantage that they are very compatible with student schedules, a high level of English is not needed and the time is paid around $ 17, which is not bad.
Inside there are jobs like runner (bring dishes to the tables), barista (expert in the preparation of coffees, teas, milkshakes ...), waiter (the waiter who takes note of the commands on the tables), kitchen hand (assistant kitchen) or dishwasher, among others.
In the hospitality sector there are perfect jobs for when you arrive in Australia that will allow you to improve your level of English to make a leap within the sector or even look for something else in sectors more related to what you have come to study.
Marketing sector
Australia is one of the best destinations in the world for students looking for a opportunity in the marketing sector thanks to the quality of its schools, the large number of multinationals that are based in the country and the high salaries that can be earned within the industry. Of course, depending on the role you want to play, you will also need a higher level of English than in other sectors.
Unskilled jobs in Australia
Unskilled jobs are all those for which you don't have to have a specific academic background. In addition they do not usually require a high level of English, the best known unskilled jobs are:
Skilled jobs in Australia
Qualified jobs are all those who have a certain degree of specialization, mostly vocational.
Qualified jobs require training in a specific field, which is acquired through courses or regulated education, and also requires a medium or high knowledge of the language to be able to develop in a competitive professional environment and perform complex tasks.
Essential requirements to work in Australia
Obtain a visa that allows you to work
There are different visas that allow you to work in Australia, but without a doubt, as visa experts in Australia, the most interesting and the one we usually recommend from Dingoos is the student visa, which allows you to work and study part-time, you do not need to have an English level and you can stay in Australia for the entire duration of the course in which you enroll.
And best of all, if you see that your course has flown by, nothing happens, because you can enroll in another and expand your visa again. All are advantages!
In addition to the student visa there are also other visas that allow you to work in Australia:
Get the TFN
You will also have to obtain the Tax File Number (TFN), which is like the social security number in Spain. You should request this number before starting work.
On the other hand, if you are going to work as a self-employed person, you should request what is known here as ABN (Australian Business Number). It can also be requested online.
Have an Australian bank account
Another requirement that you must meet is to have a bank account in an Australian bank, for example, if you come with Dingoos we will help you apply for it even before you arrive in Australia.
What visa is needed for qualified jobs?
What is the Skilled Visa?
It is a work visa that allows you to practice a qualified profession in Australia. It is also a good way to obtain permanent residence in Australia. There are four variants:
If your profession is within the list of strategic skills medium and long term you can apply to the Skilled Independent Visa or Graduate Temporaly Visa, while if your profession is within the short-term strategic skills, you can apply to the Skilled Nominated Visa.
And in the event that you want to apply to Skilled Regional Provisional VisaYour profession will have to appear on either of the two lists of strategic skills.
Requirements to apply to the Skilled Visa
You will have two types of requirements; those derived from the visa and those requested by the entity in charge of validating your application.
Those derived from the visa are basically be less than 45 years old, a competent level of English (demonstrable with title IELTS), that your profession is within the list corresponding to the visa you want to apply for and that you have demonstrable experience after your graduation.
However, those requested by the competent authority to validate you as a professional can be many and complicated to prove. In the next point we talk about this process.
Professional validations
To be able to work in any of the professions demanded by the Australian government and get the Skilled Visa you will have to validate your studies and experience.
In the list of demanded occupations you will find the institution in charge of validating your studies depending on the field in which they are located. She will tell you what you have to send them, the ways to do it and even what are your real chances of getting the Skilled Visa.
What is the minimum wage in Australia?
Although life in Australia has a very high cost, salaries are also high, so the salary / cost of living ratio is well proportioned. Find out what the minimum wage in Australia is!
Tips for looking for work in Australia
It is not easy to find a job in Australia before arriving, but you can start planning it now to prepare interviews or even open doors in Australia. Discover how to prepare the ground!

To ensure a better browsing experience, we advise you to put your phone vertically.